Ashford & District Sunday Football League

Ashford & District Sunday Football League
News Report
R&J Coaches Manager of the Month- December/ January
Author: Ryan Mills, 28/01/20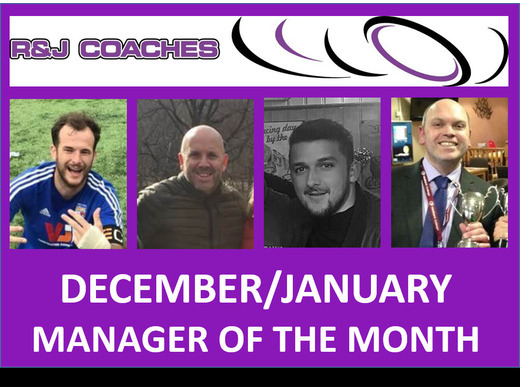 As with most years the bad weather sets in around the Christmas break and starts to play havoc with the fixtures list, so once again this season there is a joint December/ January manager of the month. There are no prizes other than some much deserved recognition and a nice little write up, but congratulations to the latest winners…



PREMIER DIVISION

Market Hotel player-manager Ryan Smith wins the manager of the month award in the Premier Division after leading his side to five wins from six games across December and January. Ryan and his assistant Kyle Anderson took over the reigns from older brother Liam in September and has managed to steady the ship after an unusual and inconsistent start to the season by Market's high standards.
The 2018 league champions started December with a bang recording two high scoring victories against bottom of the table Lolzors, one in the league and the other in the Charity Trophy, scoring a total of 25 goals in the process, before following that up with a comfortable 6-1 away win at an improving Mersham Sports side straight after the Christmas break. Then followed an 8-3 away league win at Red Heathens and an equally impressive 8-2 win at Nailbox in mid-January to bank four league wins on the spin, before suffering a set back last weekend in their 2-1 reverse against Stanhope & Beaver Rangers which Smith and Anderson will hope will merely be a blip in their quest for silverware this season.



DIVISION ONE

With four consecutive league victories under their belt, Aldington have surged to the top of the Division One league table and currently lead second place Sellindge SSC by three-points. Newly appointed manager Paul Guest has managed to keep most of the squad together since Paul Kerr's departure two-months ago whilst adding two or three younger players to the team, and that mix has paid off on the pitch. Guest scoops the Division One manager of the month prize despite suffering a 3-1 defeat to Premier Division side Red Heathens in the Charity Trophy at the start of December, but the villagers recovered to reach the last-four of the Val Helen League Cup with a 3-0 quarter final victory away at promotion rivals Cheriton AFC.

Guest has also guided Aldington to three league wins over the December-to-January period, including two away victories at Folkestone United (3-1) and again at Cheriton (3-2), whilst last weekend they picked up another well earned three-points in their 2-0 home success over Hythe Royal British Legion.



DIVISION TWO

There seems to be no stopping in-form South Willesborough at the moment as they extended their unbeaten run to four-months and 14 games with a 5-1 away league win at AFC Guildhall at the weekend. Manager Brad Horne and assistant Sam Sowden win the Division Two manager of the month award for the third consecutive month having already finished top of the form table in both October and November, and Horne and Sowden's side continue to chase silverware in five different competitions this season.

The management duos biggest achievement this season has been the Frog Islanders county cup campaign as they returned from their trip to Marlee Royals 2-1 winners earlier this month to reach the quarter finals of the Kent Sunday Junior Trophy. Their cup ambitions don't stop there as South Willesborough also reached the semi finals of the Sheber Trophy with a 6-3 extra-time victory against Singleton Barn two-weeks ago, while they also knocked out Division One title challengers Ashford Genclik winning 6-4 after extra-time to go through to the last-eight of the Charity Trophy. Horne's side have also picked up nine points from a possible nine in the league during December and January, beating Biddenden 3-1 and Ashford Cavaliers 5-1 before Sunday's victory away at Guildhall made it 10 wins on the bounce.



DIVISION THREE

Despite enjoying a mixed month, Singleton Barn gaffer Neil Hemstead picks up his second Division Three manager of the month award this season for the joint December and January period. The Barn were very unlucky to crash out of the Sheber Trophy when they went down in extra-time to Division Two side South Willesborough, but Hemstead managed to steer his side back on the right path with two league wins and a cup victory.

December started with a 4-0 home league win against promotion rivals Ashford United Thirds, but the Nuts 'n Bolts got their revenge five weeks later running out 4-1 winners in the reverse fixture. The Barn picked up another important three points and a clean sheet in their recent 2-0 win over Mersham Sports Reserves, whilst they also enjoyed a cup win against higher division opposition as Brad Freund's four goals helped the Barn to a 6-2 win over Lolzors Reserves.
Follow the site to get the latest news and results straight to your email
Weather
Ashford, UK
Light drizzle

26 MPH SW
90% humidity
Thu

9°C
3°C
Fri

9°C
2°C
Sat

12°C
8°C
Sun

12°C
4°C
Contact List

James Walton
jwalton0601@hotmail.co.uk
07737 294059


Andy Williams
adginho25@gmail.com
07767 434843


Kenny Beale
kenrbeale44@gmail.com
07899 030276